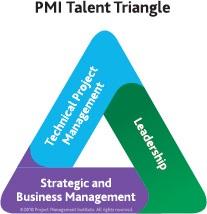 The Speaker Selection team for the PMI-Northeast Wisconsin Chapter is looking for dynamic speakers to present at our future chapter events and professional development symposium. If you or someone you know is interested in presenting at one of our events, please follow the link below to fill out a Speaker Submission Form. Once we have received your submission, the programs committee will determine how the topics will coincide with our calendar of events. We look forward to hearing from you and are excited about possibly having you speak to our members.
---
All speaker presentations must align with the new PMI Continuing Certification Requirements (CCR) Program and PMI Talent Triangle. See the chart below for example topics for each category of the triangle.
Talent

Description

Example Topics

Technical Project Management*

Knowledge, skills and behaviors related to specific domains of Project, Program and Portfolio Management.

Advanced Project Management

Techniques to Improve Your WBS

How to Gather and Document Requirements

Risk Management for Your Portfolio

Leadership

Knowledge, skills and behaviors specific to leadership-oriented, cross-cutting skills that help an organization achieve its business goals

Strategic and Business Management

Knowledge of and expertise in the industry or organization that enhances performance and better delivers business outcomes.

Innovation Strategy Alignment

Market Strategy Alignment

Differentiation Strategy Alignment

Customer Strategy Alignment
Our chapter hosts two types of events during the year:
Monthly Events
Monthly events are held in Appleton, Oshkosh, or Green Bay Wisconsin.Speakers will speak for one-hour time slots.
Submission Timeline: We welcome you to submit the Speaker Submission Form anytime during the year (see link below).
Annual Professional Development Days (PDD) Event
Our Professional Development Days Event is a two-day event held each year in May at a location in Northeastern Wisconsin.  There are opportunities for keynote speakers as well as breakout speakers.
Submission Timeline: In order to assure consideration for speaking opportunities at our PDD, you must submit the Speaker Submission Form by October 31st. (See link below)

*We are especially looking for experienced, engaging, and energetic TECHNICAL PROJECT MANAGEMENT SPEAKERS at the mid to advanced level.
Interested?
To be considered for our events, we ask that you apply by filling out a Speaker Submission Form.  A member of the Chapter's Speaker Selection Committee will contact you to review your submission.